PHYSIOTHERAPY IN MAYFAIR & KENSINGTON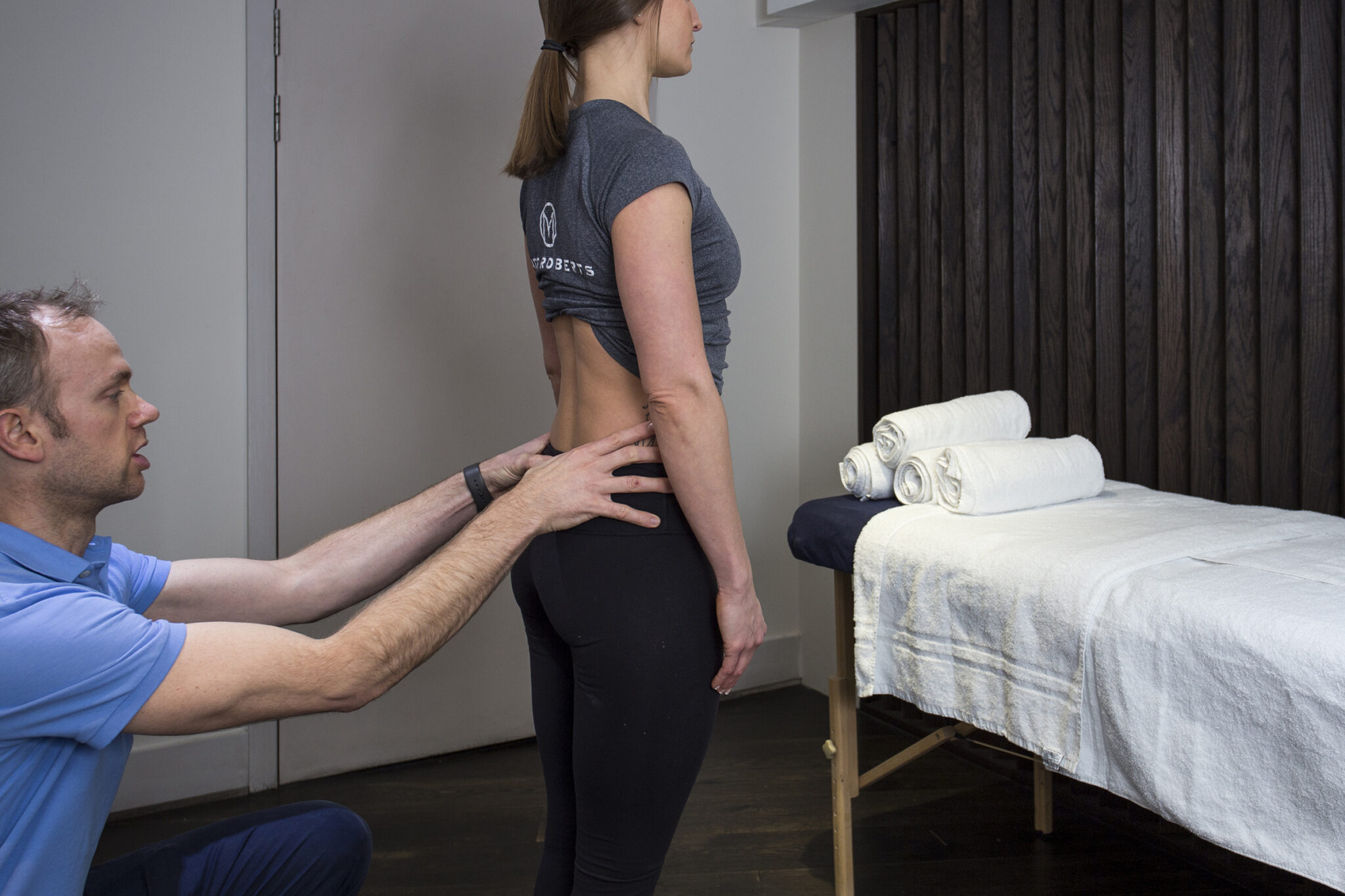 Specialist Sports & Spinal Physiotherapy Clinic
We ensure an accurate clinical assessment has been taken which allows us to assess the pathology and movement characteristics of your injury. We provide focused treatment for active bodies at our physiotherapy clinics in Mayfair and Kensington.
An accurate diagnosis of what is contributing to your pain or injury is important to give you a sense of control over your injury. We combine a hands on approach with specific exercise to help you recover faster. This may include mobilisation, manipulation, tissue work and needling if appropriate. We use a combination of movement based therapies and strength work using modern equipment to aid your recovery.
Our belief is that all patients should be treated like elite athletes. We have experts to help our clients deal with persistent pain, hypermobility, spinal conditions and all peripheral limb conditions. We use a Clinical Pilates approach as part of our rehabilitation and our sister company Mayfair Pilates delivers this bespoke service.
Ready to book?
If you're ready to book you can use our online booking system by clicking below. 
What is Physio Therapy?
Physiotherapy helps relief pain, restore movement and optimise body functions when an individual is affected by musculoskeletal pain and disability – problems related to muscles, bones, tendons, ligaments, joints and nerves. It helps by promoting injury recovery, correcting muscle imbalance, managing pain and associated symptoms and educating about healthy living. The aim is to restore your confidence in everyday tasks, enhance exercise performance and promote longevity. 
What does a Physiotherapist do?
Physiotherapists specialise in assessing and treating individuals affected by pain conditions, sports injuries and musculoskeletal dysfunctions. Once they have identified the root cause of the problems, they will facilitate healing processes and gradually get you back to pre-injury functions through exercise prescription, rehabilitation pilates, shockwave therapy, dry needling and acupuncture, manual therapy and education. They may also refer you to other services such as diagnostic imaging, blood tests, nutrition and dietetics, personal training and other medical investigations as appropriate.
Are Physios doctors?
Physiotherapists in the United Kingdon are highly skilled professionals, but they are not considered to be doctors.
What to wear to a Physio appointment?
In order to do a comprehensive assessment, your physiotherapist will need to be able to access the area of your specific injury or pain problem. You are recommended to wear clothes you feel comfortable moving in, such as shorts, strappy tops and vests. If your issue is linked with a sport like running, you are advised to bring along your running trainers as your physiotherapist may perform a running assessment.
We have changing room and shower facilities, you are most welcome to use should you require these.
How long is a Physio appointment?
Physiotherapy treatment sessions can vary in length depending on your preference and the type of treatment. You have the option to choose 30, 45 or 60 minute appointments. We recommend initial appointments to be 45 or 60 minutes to allow time for an in-depth assessment and treatment.
Can a Physio help arthritis?
Yes, physiotherapists can help to manage symptoms of arthritis. We can improve joint stiffness, and improve muscle weakness and reduce inflammation through exercise therapy, soft tissue release, mobilisation, acupuncture and taping. We will provide education and advice on ways to relief pain and manage your condition.
Can a Physio help sciatica?
Sciatica refers to leg pain radiating down the back of the leg triggered by irritation of the sciatic nerve and physiotherapists can help identify and treat the source of irritation. Treatment may include soft tissue release, joint mobilisation, acupuncture and exercise therapy. We will also provide advice on how to relief discomfort by modifying your activities. Once the pain subsides, we look at more long-term management of the condition and how to reduce the risk of it reoccurring.
Can a Physio help neck pain?
Physiotherapists are highly skilled at treating individuals with neck pain. The combination of individualised exercise prescription and manual therapy can alleviate pain and stiffness and improve neck range of motion. We can also help you develop dynamic strengthen in the neck and its supporting musculature to improve your overall posture.
Can a Physio help back pain?
The cause of back pain is multifactorial and complex as our spine involves a series of interlocking elements including the vertebae, discs, facet joints, ligaments and muscles. Due to the complexity of the condition, an episode of back pain requires a tailored rehabilitation programme to restore movement and functions. Physiotherapy is effective for back pain as it not only relieves your pain, but also addresses underlying cause of your problem to reduce the chance of it returning. Treatment may involve exercise therapy, soft tissue release and joint mobilisation.
How to self refer for Physio?
For self-funders, you can book an appointment with us here. 
We approve and trusted with all private insurance companies but only directly bill Bupa and AXA for your treatment fees. If you are with other insurance companies, please book a self-paying appointment online or via our front of house team. We can then provide you with an invoice or receipt for you to reclaim back from your insurance. 
We understand the process can be confusing. Please get in touch with our front of house team via 0203 476 6949 or info@mayfairhealth.co.uk for any enquiries.
How much does a Physio cost?
 

60 Minute

45 Minute

30 Minute

Consultant Physiotherapist

 

 

 

 

Specialist Physiotherapist

 

 

 

 

Lead Physiotherapist

 

 

 

 

Physiotherapist

 

£130

£105

£75
Shockwave Therapy (30 min) – £150
Pliates with Pilates Instructor (1 hour) –
Pilates with Physiotherapist (1 hour) –
Should I see a private Physiotherapist?
Due to the challenges and immense pressure on the free healthcare service, seeing a private physiotherapist allows shorter waiting times, longer appointment duration and a more hands-on approach which facilitates your injury recovery.
At Mayfair Health, you can rest assured that premium service is delivered by every single member of our team. Our expert physiotherapists will provide an accurate diagnosis to your issues and offer you a bespoke treatment plan that is personalised to you to help you achieve your health and fitness goals.